WHAT THEY ARE
Sanitize cycles on washing machines, dryers and dishwashers add another layer of germ protection by reducing 99% of bacteria commonly found on dishes and home laundry. 85% of GE Appliances' dishwashers and 60% of washers and dryers have sanitize cycles, yet many consumers aren't aware that their appliances have these cycles.
WHEN TO USE
Use on heavily soiled loads, kid's items—such as cloth diapers or bottles— or to sanitize your home when a family member is sick.
AVAILABILITY
Sanitize cycles are available across a range of GE Appliances' brands, including Haier, GE, GE Profile, CAFÉ and Monogram at retailers nationwide.
HOW THEY WORK

1. The GE Appliances' Sanitize cycle uses elevated water temperature and a longer wash cycle to kill bacteria, and a pump purge and extended rinse removes contaminants.
2. The GE Appliances' Sanitize with Oxi cycle is designed to remove bacteria when using an Oxi additive with detergent. This cycle includes an initial lower water fill for a super concentrated, high-temperature sanitization followed by a heavy wash. Then, a pump purge and deep rinse removes contaminants.

Uses high heat (>150° F) to reduce bacteria, and the cool down is extended to protect users from a hot garment.

Combines spray arms to get water to all of the dishes and a rinse that holds at a high temperature (>150° F) for a set amount of time.
USAGE TIPS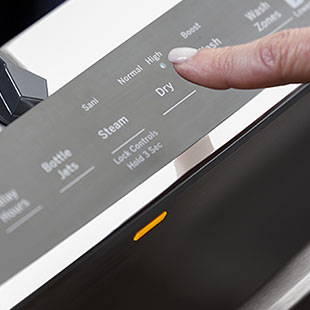 Dishwashers SMALL
It works best when dishes are loaded properly according to user manual.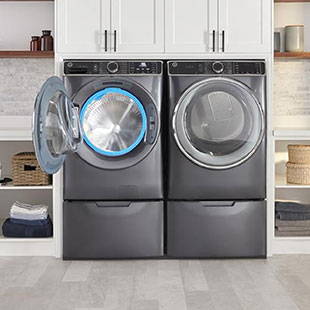 Laundry SMALL
Please be mindful that it should only be used with colorfast items given that the cycle uses hot water!